Learn more about Cedar Oaks and the Cedar Oaks guild!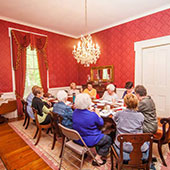 Cedar Oaks Guild was formed in the summer of 2011. The name was officially changed from Oxford-Lafayette Historic Homes in April, 2013, upon the Guild's request to the Mississippi Secretary of State. COG was formed by the merger of two of the original clubs that were responsible for saving Cedar Oaks from destruction in 1963. A third club, which was also involved, disbanded in 1963.
The Guild is very proud of its heritage from these three clubs which date back to 1948. It has taken elements and traditions from each of its predecessors to form its new identity. The Guild, however, is a different organization from any one of its predecessors. Not a book club or a study club, Cedar Oaks Guild is a working organization whose primary mission is the preservation, support, and promotion of Cedar Oaks.
Membership in the Guild is by invitation only and is limited to 50 members at any given time. We are very fortunate to number among our members a varied group of outstanding women who come from different places in the country, different professions, and different interests. We continue the example set for us by our predecessors who loved history and cared about preserving the cultural and architectural heritage of Oxford and Lafayette County.
Ceadar Oaks Guild Board:
Abi Rayburn, President
Martha Huckins, Vice-President
 
Lynne McIngvale, Treasurer
Barbara Purdon, Recording Secretary
 
Lynn Wells, Corresponding Secretary
Marianna Ochs, Docents/Education
 
Nina Patrick, Hospitality
Mary Sweeney, Archives/History
 
Angelita Morris, Programs
Reba Greer, At-large member
Cedar Oaks Guild Membership Roster 2017-2018:
Emily Alexander
Anne Asger
Mary Balducci
Beth DuCrest
Tricia Copelin
Nancy M. Dupont
Dianne S. Fergusson
Reba Greer
Laura G. Harper
Jan Huckaby
Martha Huckins
Connie Lilly
Reba Greer
Carolyn Lott
Kay Lowe
Lynne McIngvale
Mary McLane
Dianne Hollingsworth
Angelita Morris
Marianna Ochs
Bobby Jo McConnell
Nina Patrick
Ann H. Proffer
Barbara Purdon
Abi M. Rayburn
Peggie Roder
Janie Rozier
Sharon Shreiber
Toni Paolilo
Mary Sweeney
Marilyn Taylor
Lisa Towery
Laurie Triplette
Douglas Vance
Melva Mortimer
Shelia Roberts
Lynn Wells
Emeritus Members:
Betty Bridge
Emmie Lou Brunson
Maralyn Bullion
Ann Proffer
Marilyn Taylor
Clara Hunt